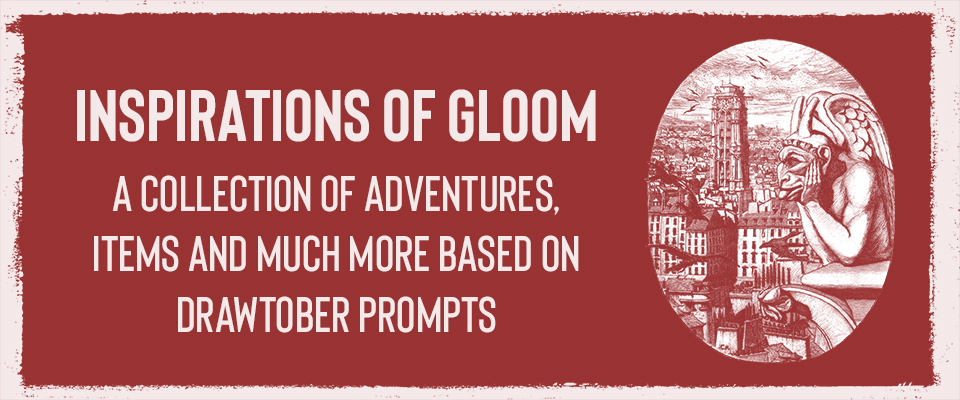 Inspirations of Gloom
A downloadable spooky toolkit
Old legends and creepy rumours, weird potions and their undesirable side effects, gloomy adventures and intriguing NPCs, all of this and much more await you in this book! Meant to spark imagination or guide improvisation, Inspirations of Gloom is also meant to be adapted, hacked and transformed to suit your needs. What stops you from turning The Bone Carver into a cyberpunk scrap sculptor? Or use The Olden Legends as anomalies in a post-apocalyptic wasteland? Definitely not me.
I used prompts from the Drawtober 2020 challenge, and was inspired to do so by World Game Champ Co.'s Tome. This challenge was an opportunity to take my head off this year's bizarre events, but also to realise (writing, art research and layout) my first RPG-related project and I am so glad I did!
Inspirations of Gloom is a very personal project, and I hope you have as much fun reading and using it as I did putting it together.
Download
Click download now to get access to the following files:
Inspirations of Gloom - Drawtober_singles.pdf
64 MB
Inspirations of Gloom - Drawtober_spreads.pdf
64 MB
Comments
Log in with itch.io to leave a comment.
I actually love this. 5/5 Stars.
Thanks a lot for the kind words :)
I love it! What font(s) did you use for the Bone Carver section?
Hi, thanks for the comment! The fonts are from GLC Foundry, the title is in 1786 GLC Fournier and the body of text is in 1651 Alchemy.