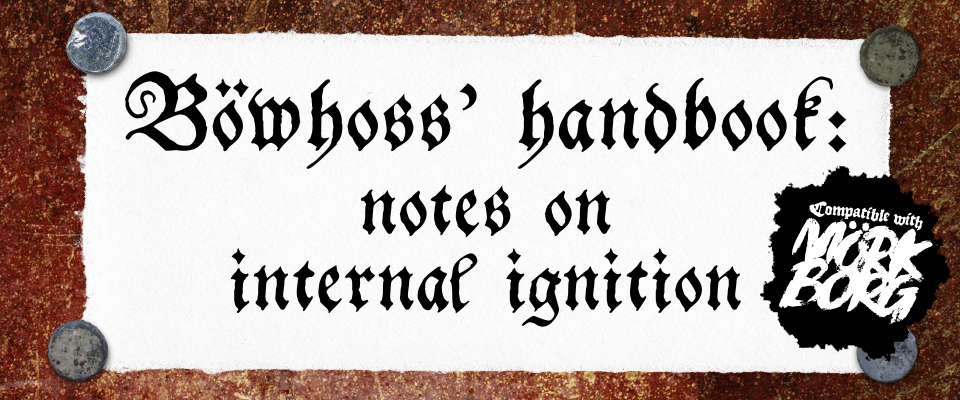 Böwhoss' handbook: notes on internal ignition - a field guide for MÖRK BORG
Hello fellow explorer!
I, Böwhoss, have decided to put my expertise, knowledge and numerous near-death experiences to good use. Over the course of my life I have seen and encountered many dangers, from which I have obviously come unscathed (minus a finger or two). In this volume you will find the most noteworthy, dangerous and strange encounters of my recent voyages. Hopefully these will be of use to you (make sure you read ahead of your travels rather than in the middle of an inconvenient situation) or at the very least entertaining.
Yours mostly, Böwhoss
In this collection you will find NPCs for your players to meet, encounters to solve and threats to face. But with the help of this guide they may survive! Or not all die at least.
The handouts file can be printed using the booklet option, and is meant to be used at the table, presented to your players as an item they stumbled upon, to drag them deeper into the Dying World.
This is a submission to the Album Crawl: Jam Session 2 based on Bauhaus' Burning from the inside.
Böwhoss' handbook: notes on internal ignition is an independent production by Jean Verne and is not affiliated with Ockult Örtmästare Games or Stockholm Kartell. It is published under the MÖRK BORG Third Party License.
MÖRK BORG is copyright Ockult Örtmästare Games and Stockholm Kartell.
Download
Click download now to get access to the following files:
bowhoss handbook.pdf
148 MB
bowhoss handbook handout booklet.pdf
71 MB